Collaborators
Step 1 : Select cross-sectional shape of interest: values are side ratios (D/B)
NatHaz Modeling Laboratory
University of Notre Dame, USA

Dr. Ahsan Kareem
Robert M. Moran Professor
Dept. of Civil Engineering and Geological Sciences
kareem@nd.edu

Dr. Dae Kun Kwon
Postdoctoral Research Associate
Dept. of Civil Engineering and Geological Sciences
dkwon@nd.edu
Wind Engineering Research Center (WERC-TK)
TamKang University, Taiwan

Dr. Chii-ming Cheng
Professor
Dept. of Civil Engineering
cmcheng@mail.tku.edu.tw

Dr. Jenmu Wang
Associate Professor
Dept. of Civil Engineering
wang@km.ce.tku.edu.tw
Querying ...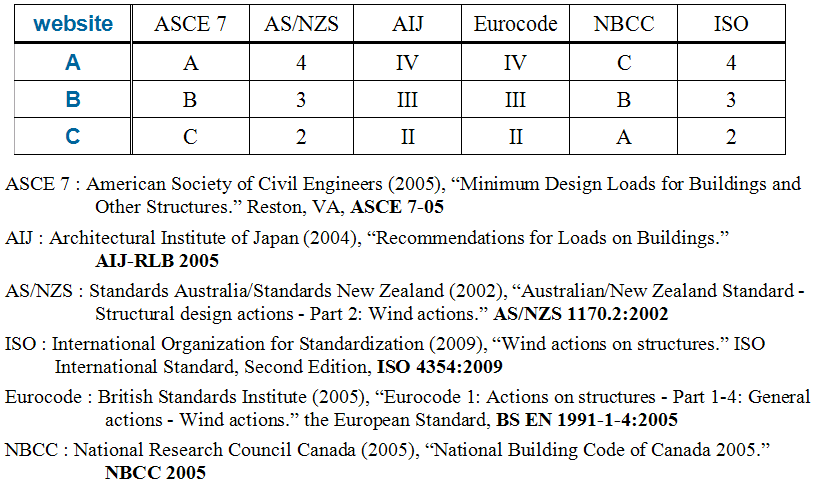 Please note that ASCE 7 option in the DEDM-HR-INT is recently updated to accommodate various return periods for both Survivability (e.g., 50-yr, 700-yr) and Serviceability (e.g., 1-yr, 10-yr) designs. To this end, a new form, 3-sec gust speed for Serviceability design (User), needs to be inputted additionally.
Please cite this work as follows:
Kwon, D. K., and Kareem, A. (2013). "A multiple database-enabled design module with embedded features of international codes and standards."
Special Issue of the International Journal of High-Rise Buildings
, CTBUH, 2(3), 257-269.
[Link]